Scottie Reads Reading Challenge
Saturday, Apr 18, 2020
10:30 AM - 1:30 PM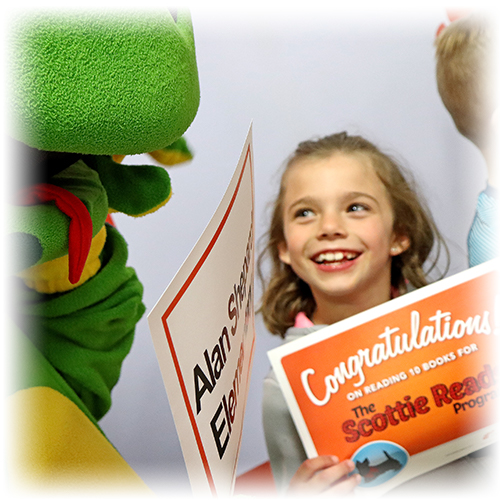 The 12th Annual Scottie Reads Reading Challenge will kick off on April 18th at the Ed White Elementary School Gymnasium at 121 South 5th Street in Eldridge, IA.
The program awards 1st grade students from Ed White, Alan Shepard, John Glenn, Neil Armstrong and Virgil Grissom Elementaries with a pizza party, a certificate and their very own Scottie Dog stuffed animal! Each first grader is challenged to read 10 or more books in a month, and each year the program is completed by more and more students.
Specific times for each class will be handed out by the students' teachers.
The annual Scottie Reads Reading Challenge event began in 2009 and is the first reading program of four that Ascentra supports. Thank you to our partners at the Scott County Library System, the North Scott School District, and the Ascentra staff who volunteered their day to make this event possible.
In 2019, 160 first graders were recognized and awarded for their reading efforts! Each of these little readers read 10 books or more in one month and as a reward, were invited to a pizza party along with their families and received a certificate of achievement and their very own plush Scottie Dog. They even got their picture taken with Ascentra's Jumpin' George!