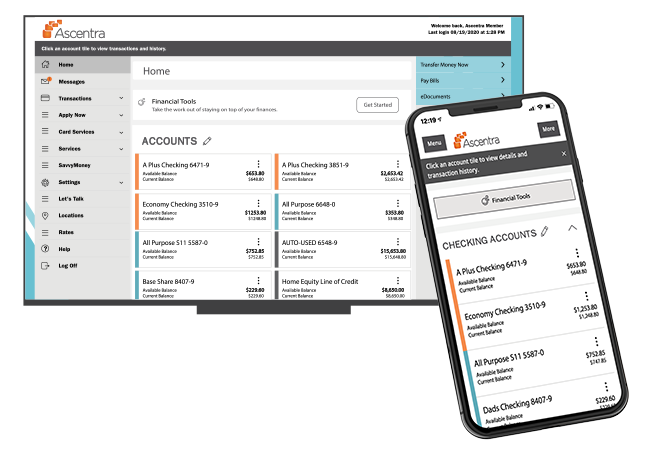 Digital Banking
Have your finances at your fingertips, with Ascentra Digital Banking. Get access to Ascentra anytime, anywhere with the same user experience on a desktop browser and mobile app.
Make all the right money moves!
Get help via chat.
Monitor your credit score and get your credit report.
Transfer funds between accounts, member-to-member, or to external accounts.
Pay bills and setup alerts.
Apply for a credit card, personal, auto, and mortgage loans.
Bank in English or Spanish.
Text Banking.
Once you establish membership, you can enroll for digital banking using the Ascentra Mobile App. Ascentra Digital Banking is also compatible with Quicken and QuickBooks.
---
Enrolling in Digital Banking
Consumers (primary), Sole Proprietorships, Trusts and Estates.
Joint Account Owners Without a Primary Account of Your Own.
Corporation, LLC, Partnership, or Organization/Nonprofit.
Rep Payee, UTMA, Conservatorship, or Fundraiser.
The Ascentra CU Mobile App
The Ascentra CU Mobile App gives you fast access to your accounts – you get Ascentra Anywhere! You can enjoy the same features we offer within Digital Banking on a desktop, right from your phone! You can even deposit checks with your smartphone.


After you've enrolled, make sure you know how to make the most out of your digital banking experience by following our checklist.
Bill Pay

Enroll in Digital Banking and pay all your bills online or on our app! Bill Pay makes it convenient to pay your bills – or just about anyone else for that matter.

Set up Bill Pay to add billers with ease to make payments, recurring payments, and even set up reminders when payments are due or sent. Say goodbye to stamps and avoid late fees!

Financial Tools

Your data should work for you, not the other way around. Financial Tools can show you the big picture of your finances—even your accounts outside of Ascentra Credit Union.

Financial Tools takes the work out of staying on top of your finances. Make sense of your transaction history and see the categories where you spend the most money.

SavvyMoney

Échele el ojo a cambios en su puntaje y reporte de crédito en tiempo real con

SavvyMoney

, un servicio disponible con nuestro nuevo sistema de banca digital.

Califique para las mejores tasas de interés en préstamos, tarjetas de crédito, o refinanciamiento basado en su puntaje de crédito.

CardValet
CardValet is an app that allows you to keep an eye on your Ascentra Visa Credit and Debit Card with your smartphone. You can turn your card "off" if you misplace it and turn it back "on" if you realized your card was in your coat pocket the whole time. OPE!
You can also set spending limits for yourself or your children, get alerts anytime your card is used, and more.

Shared Branching
Ascentra is one of over 5,700 locations that make up the CO-OP Shared Branch network. This network is perfect when you're traveling for business or pleasure, have kids or parents out-of-state that need assistance, or if you are relocating – it's like we're still around the corner!
Check out our Branch Locator to find a shared branch near you or download the CO-OP ATM/Shared Branch Locator App.
Billetera Digital
Actualice su billetera y pague usando su tarjeta de Débito y Crédito Ascentra Visa con su teléfono o reloj inteligente. Las billeteras digitales y los pagos móviles son la manera nueva de hacer compras seguras en tiendas, por Internet, a través de aplicaciones y son muy útiles cuando no sabe dónde dejó su billetera.
Actualmente usted hace compras con su tarjeta de Débito y Crédito Ascentra Visa a través de Apple Pay y Samsung Pay.
MÁS INFORMACIÓN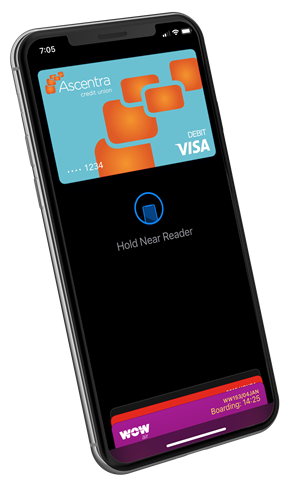 FAQ's
Tarjeta De Credito

No hay cobros ocultos. No hay sorpresas. No hay problema. Con la tarjeta de crédito Ascentra, lo que ves es lo que obtienes, incluyendo no cargo anual, no cargo por transferencia de saldo, Y tasas de intereses bajas. ¡Consideramos una victoria total!

Cuentas De Cheques

Si busca un programa de premios, sin cargos de servicio, o protección de sobregiro, tenemos la cuenta de cheques que justamente necesita.

HÀGASE SOCIO

¡Si busca una institución financiera que hace su parte para ayudar, tiene su interés en prioridad y aparte tiene su propia canción, pues pare de buscar! En Ascentra Credit Union, nosotros estamos aquí, escuchando, atendiendo, haciendo lo que es correcto en todos aspectos. ¡Únase y déjenos mostrarle como esta credit union se apunta!